---
Our Amberstonedream community is celebrating its 5th anniversary this month, thank you all for the many years we have spent together and the amazing things we've accomplished. We see Minecraft as a place of sharing and perenniality above all else. Ensuring the best experience while keeping the "family" spirit alive by banishing all financial aspects will always remain our primary goal for Amberstone. Your creations and all of Amberstone's content will remain accessible for many years to come, so here's our promise to thank you for all the years we've spent together. The year 2020 will mark the announcement and launch of our "memory" project, which will leave you with a memory, an independent trace of Minecraft, which we hope you'll enjoy, more information in the coming months. Bon jeu à tous
le: 15/03/2020
---
● Experimental HD pack released (It upgrades various basic textures, currently 50 in HD version some in ray tracing and relief) It installs itself as an add-on This pack will be updated regularly with various block additions... Downloading : ● Added .obj section on the 3D library Ability to download Amberstone 3D models in .obj format for use in 3D software. ● server / ranks - Citizens now have access to the pasted copy of the various stocks (vehicle trees panels etc ...) - Citizens+ have access to the masterplot (plot 300*300) - Emphasis on discord and ingame of secondary grades ● Urban planner = (taking care of roads, park etc..) ● Decorator = (interior decorator) ● Designer = (Après avoir réalisé 5 objets pour le pack Amberstone) ● Entrepreneur = (Having a business) Ask to obtain those bonus ranks !! ● Opening of AmberPro The Amberpro server consists of offering more freedom and unblocking classic Amberstone. - Architects will be able to have a private/custom world if they wish. - Citizens, citizens+ or people/teams from outside Amberstone may apply by submitting their idea or project to an administrator. AmberPro dynmap :
le: 30/01/2020
---
The winter 2019 season pack is available
Vegetation changes, soil and wood textures, snow, weather, sound effects... HD and lite version available Download the winter pack :
le: 21/12/2019
---
It will allow you to use our 3Ds alone or on another server
Explore all our 3D, arranged by themes and collections, the credits of the different authors are indicated Copy the code to get the model in game, either solo or on a server, version 1.13 and +. Enjoy !! http://www.amberstonedream.com/mag/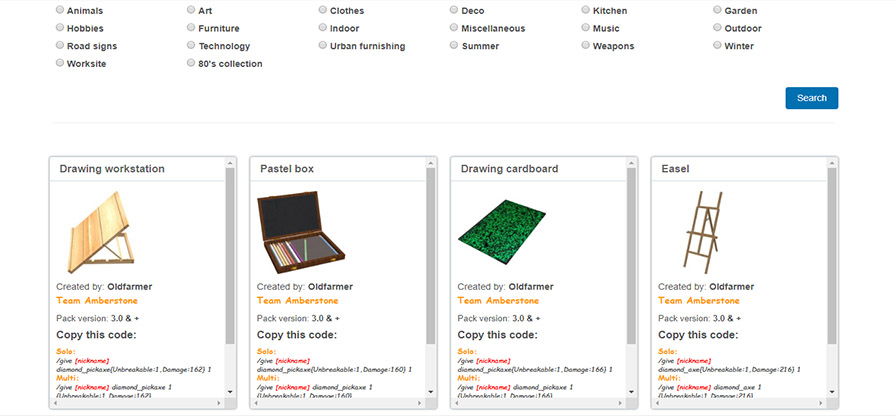 le: 07/12/2019
---
New collaboration with the ProjectValvy team
Valvy is a passionate project consisting in recreating a Belgian region from the 1940s based on real data. This partnership will aim to help develop this project through long-term collaboration and thus diversify our community. More information coming soon! Website / infos: https://projectvalvy.wordpress.com/
le: 20/11/2019
---
Availability of a new Help page
This page gathers in the clearest possible way all the commands linked to the Amberstone server, the brush World edit, Voxel as well as tutorials... Come and discover it here Help page or from the Tab Menu Useful commands
le: 29/10/2019
---
We have just opened our Patreon with 3 levels of donation (2$ 5$ 9$)
Patreon allows in a simpler and more visual way than Paypal to support the server. Various "rewards" will be released to you depending on the level (grade, custom world, or preview), I let you take a look.
Become a Patron!
le: 27/10/2019
---
Release of the Amberstone 3.0 pack, for the 1.14!!!
New features in version 3.0 : Discover more than 150 new features 1.14 and many 3D /warp pack to visit the expo ingame To use the 3D models alone or on another server, install the 3D Demo world
le: 20/10/2019
---
Upgrade to 1.14.4 version
The creative Amberstone server has now been upgraded to 1.14.4, compatible only in this version !
The texture pack 1.14 will arrive this Saturday! Infos plugins: - The npc are back /npc - To copy entities (armor stand etc...) //copy -e and //paste -e - Another elevator plugin is installed (simpler) tuto Salon entraide of our discord. - world edit is usable again between servers /weg Good game to all
le: 17/10/2019
---
Etheria: 1.14 and new features
Our Etheria Survival / RP Server is now available in 1.14. This will allow you to perform a reboot (new worlds, new features). We actually want this update to be closer to the first versions of etheria, where the map was smaller, with a fixed spawn and more player cities Have a good game, everyone, /etheria to access survival / rp!!!
le: 05/05/2019